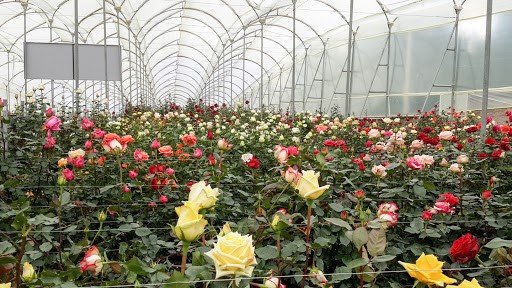 The Journey of a Rose from the Farm to your Home
Flowers for the commercial market are grown in many parts of the world; from Canada to Australia, the USA & South America, from Holland to Costa Rica or Kenya. The majority of roses available at Panda Flowers originate from Ecuador in South America as the South American growing season is all year round.
Roses
Fun Fact: Roses grow perfectly straight only near the equator where the sun shines perpendicular to the planet.
The journey of a
Panda Flowers
Rose begins at a farm in Ecuador, where for months, the plant has been nurtured under a carefully controlled climate. Most rose plants take 6 to 8 months to flower and will continue to produce flowers for approximately nine years.
Roses are a unique plant because they are somewhat "manageable" meaning that to a certain extent, the grower can control their production yield. This manageability is important when the farms plan for the huge fluctuations in rose demand throughout the year, especially at Valentine's Day. Growing roses isn't an exact science and Mother Nature throws a lot of curves at these farms. Factors including the amount of sunlight, temperature, soil conditions, etc may impact the actual result of the "finished" stem. Like most perishable item, roses are graded and different grades sell at different price points. Grading can be based on the number of petals in the rose, the length of the stem, etc. All roses are graded by type, colour, and proportionate head size, and then labeled to identify their different characteristics.
The Harvesting Process
When roses reach maturity, they are hand-cut by workers who select the roses one by one. Only those which have the proper stem length and bud opening are harvested. Immediately after being cut from the plant, roses are immersed in a citric acid solution which is absorbed directly into the stems. This solution helps to clean the stems, prevent bacteria growth and keep the roses hydrated until they receive additional post-harvest care. Within 15 minutes after the roses are cut, workers will begin the post-harvest process.
If necessary, the workers will remove some of the rose's guard petals. In order to maintain the proper tension within a rose and thus maximize its potential to open completely, it is very important that minimal petals are removed.
The roses are then bundled in sets of twenty-five, trimmed and secured. These bundles are then hydrated for 6-24 hours in water specially treated to help eliminate any bacteria. The roses are placed into cold rooms (1 C) where they will become dormant. This step sets the roses up for success during the rest of their long journey to the retail market.
The cooled roses are packed into boxes for shipping, loaded onto refrigerated trucks, then transported swiftly to cold rooms at the International Airport ready to be loaded onto dedicated flower cargo planes and flown to Miami.
Fun Fact: In South America, fresh flowers, roses included, are typically loaded onto cargo planes in the cooler evening instead of during the heat of the day.
Miami International Airport

Flowers from South America and elsewhere are taken directly from the cargo planes to massive coolers inside Miami International Airport. Since flowers make up about forty percent of all the cargo handled at Miami International Airport, over 32,000 boxes per day, the cargo handling facilities are optimized to give flower importers the very best service. Miami International Airport handles over 85% of flower imports heading into the United States (about 32,000 boxes a day!) These receiving terminals are kept at a constant 34 °F (1 °C) and can hold as many as 114,000 boxes of flowers at one time.
Inspection
Once the flowers arrive in the cooler, each box will pass through highly advanced x-ray machines before it is allowed to clear US Customs. Boxes may be randomly inspected for insects, fungi and soil conditions that are prohibited from entering the United States. At least one box of each flower type from every waybill is opened for a hands-on inspection by the US Department of Agriculture. Once the boxes have been officially cleared for entry into the US, the fresh product destined for the open market is distributed to local import or brokerage houses which sell flowers to wholesalers throughout North America.
Transportation to Stores
With the cut flower business being sensitive to time, temperature and humidity, proper transportation is critical. Cut flowers headed to Canada are packed in refrigerated trucks and
North American companies that specialize in the transportation of fresh cut flowers provide expedited long-distance services to bring this product north. Roses shipped from farms in South America can reach our Canadian retail stores in as little as four days. That's a lot of miles and a lot of hustle by a lot of hands!
When the roses and other cut flowers arrive at your Panda Flowers location, each stem is checked for damage, trimmed of any remaining foliage and/or thorns, given a fresh cut to re-open the stem so it can hydrate and made available for our Customers.